Featured Products
Monthly Featured Products
February is Heart Health Month.  Check out just a few of our
Heart Healthy supplements.
____________________________________________________________
SMART Q10 features the trusted Vitaline brand CoQ10
CoQ10
for Heart & Brain Health.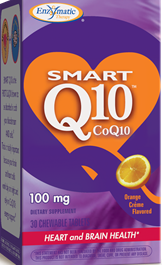 Essential to mitochondria-the energy-producing units in the cells of the bodyVital to optimum heart & brain cell function Supports cellular energy.
SMART Q10™ CoQ10 contains only the natural form of coenzyme Q10. Natural CoQ10 is produced through a biological fermentation/extraction process and is identical to the form produced in the human body.
Eskimo – 3
Omega-3 Fatty Acids Help Reduce the Risk of Coronary Heart Disease.
Supportive, but not conclusive, research shows that consumption of EPA and
DHA omega-3 fatty acids may reduce the risk of coronary heart disease.
Eskimo®-3 contains fish oil, which is a food source that may be utilized when
following a kosher diet. It does not contain ingredients from crustaceans, which are NOT permitted in kosher diets.